With Sports Massage, our therapists will focus on the individual needs of athletes of every kind – from world-class professionals to weekend joggers. With the ever-growing number of people taking part in sport, combined with the increasing competitiveness and intensity of physical exercise, the demand for sports massage is also increasing and becoming more and more recognised as a skill which may aid recovery and enhance performance.

No matter which sport, the aim is almost always to increase the level of training and thereby subject the body to gradual and controlled overuse which can create problems and imbalances in the soft tissues. If these are ignored and allowed to become chronic, they will not only hinder the athlete's rate of improvement but in many cases their performance may well suffer and ultimately the athlete may be susceptible to develop injuries or conditions that are serious.

Benefits of Sports Massage

If received regularly, Sports Massage will help athletes prevent injuries which may otherwise be caused by overuse. A constant build up of tension in the muscles from regular activity may lead to stresses on joints, ligaments, tendons as well as the muscles themselves.

These muscle imbalances may develop and often go undiagnosed until they are serious enough to cause the athlete discomfort or impede performance. Our skilled massage therapists at BJC Health will be able to detect variations in the soft tissues and by using the correct techniques, help you to maintain a much healthier physical state.
Fill out the form below and we will get in contact with you to discuss things further or to book in your next appointment.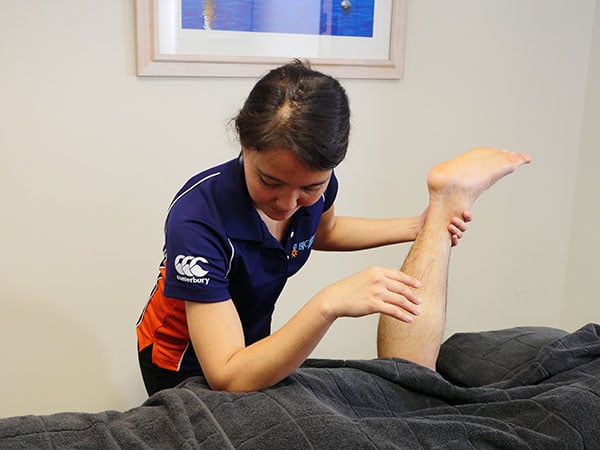 If you're ready to take the next step, let us know your issue
WE KNOW YOUR TIME IS VALUABLE, SO WE'LL GET BACK TO YOU QUICKLY TO SCHEDULE YOUR APPOINTMENT
Get the help you deserve - talk to our friendly team today! 1300 252 698
Our Latest Articles
What is chair yoga and is it for me?

By Rhianne Kerr on June 8, 2020

Now one thing I have found as an Exercise Physiologist and Yoga Teacher, is that a traditional yoga practice is not necessarily for everyone. It can ...

BJC Health and Fitness
Level 1, 17-21 Hunter Street
Parramatta, NSW 2150
+61 2 9890 7633
Suite G5B, Ground Floor, 7
Help Street
Chatswood, NSW 2067
+61 2 9413 2979