If you have recently been diagnosed with Ankylosing Spondylitis (AS) or a Spondyloarthropathy (SpA), some Rheumatologists might look to refer you to a physiotherapist.
You may be wondering why you are asked to see the physiotherapist before your next doctor's appointment. Good question!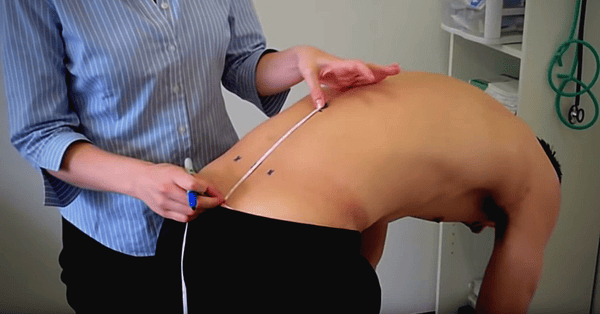 Here at BJC Health, we are very fortunate in that our Rheumatologists and Physiotherapists work closely together to help our clients achieve the best possible gains. Physiotherapists can play an important role in assessing and treating many of the physical limitations that often come with rheumatic conditions. If you have AS, it is likely that when you first see a physiotherapist, that in addition to asking you some questions about your goals and current level of function, they will conduct a metrology assessment. Once the assessment is completed, the Physio can then provide a tailored exercise and treatment program to help reduce pain and improve your mobility.
So what is a metrology assessment and why is it important?
Put simply, a metrology assessment aims to understand the current impact of the disease on an individuals daily life, and identify whether there are any specific physical limitations caused by the disease. The assessment can be broken down into two main parts.
PART I
The first part of the assessment consists of two short questionnaires (BASDAI, BASFI). These assessments aim to understand the impact that pain, stiffness and fatigue have on your ability to complete your day to day tasks.
BASFI (Bath Ankylosing Spondylitis Functional Index)
This questionnaire asks about your ability to perform specific tasks such as putting on socks, getting off the floor, standing for periods of time, and whether you feel comfortable looking over your shoulder. These questions allow the team to truly understand how well you are coping with everyday activities.
BASFI (Bath Ankylosing Spondylitis Disease Activity Index)
This questionnaire aims to understand the extent of the typical symptoms associated with inflammatory conditions, such as duration of morning stiffness, levels of fatigue, pain and swelling. Understanding the current extent of these symptoms helps identify the level of disease activity.
PART II
The second part of the metrology assessment is where a physio will then physically assess joint mobility, chest expansion, and tenderness of specific points around the body. The main joints assessed are the neck, lower back, and hips which are all commonly affected by both pain and stiffness in patients with spondyloarthropathies. Chest expansion is included in this assessment because poor movement of the thoracic spine can lead to reduced movement at the ribs, thus affecting the ability to take a big breath in.
We have demonstrations of all these assessments on our youtube channel. Click here if you want to check them out and see what these movements look like!
As these questionnaires and assessments are specific to Ankylosing Spondylitis and Spondyloathropathies, they can provide great insight into the current disease process as well as the impact the disease is having on an individual. The initial assessment, which is usually done prior to medications, provide a baseline from which both physical and medical treatments can be measured against. These measures are ideally re-measured every 3, 6 or 12 months depending on your progress.
What happens with the results?
The results of all these movements are typically shared with your Rheumatologist, which can assist them with their management. For the physiotherapist looking after you, these measures help guide which areas of the body might need a little more TLC, as well as what daily activities they can work with you to improve. The physiotherapist will talk with you about any physical goals you may have no matter how great or small, and aim to provide you with a program that will help improve your current mobility limitations as well as work towards whatever health and wellness goals you might have.
So we hope the summary above helps explain what is involved in a metrology assessment. We appreciate it includes some tricky acronyms and long words, however the aim is to help commence a safe and tailored movement routine. These results can also help inform your Rheumatologist as to how the disease is impacting your movement and day to day life.
If you have any questions, or want to know more information, don't hesitate in getting in contact with one of our Physiotherapists.