I'm sorry that I've been missing from this blog.
I was galvanized to start blogging in late 2010 to try and rectify community attitudes to Methotrexate after a string of poor outcomes for my patients (here's my very first post - Why bother blogging?)
Over the years, I've used social media to amplify my reach and as a way to reflect on what I do. It's clear to me that learning from the people I interact with online has actually helped shape my attitudes and practice style. In addition, it has led to numerous educational initiatives with allied health professionals and GP groups, as well as a few public awareness campaigns.
Our clinic then published an anti-inflammatory cookbook, closely followed by my book, Stuff You Should Know about RA to try and address stuff people seemed to want more information on and guidance from rheumatology professionals who are involved daily with people's health.
Hundreds of posts have been published on this blog site. Then I started to run out of puff.
Late 2017, I was introduced to Jeremy Knibbs, publisher of The Medical Republic, a fortnightly newspaper distributed to 16000-odd GPs in Australia.
The 1st print issue of Rheumatology Republic soon followed, an attempt to catch the attention of rheumatology professionals and interested GPs. We're up to our 5th issue, published quarterly.
There's so much we want to do with this vehicle.
People dealing with rheumatic disease still take so long to be diagnosed, and some, take even more time, to access appropriate advice and treatment where needed. There's so much misinformation, so much worry and too much wasted opportunity.
Time with the rheumatologist tends to be short, and there are calls, understandably, for better access to rheumatologists, for further dialogue and better sources of information.
We want to build community.
As Jeremy explains, print is a great medium as there are things you just can't do online but given the profile, education and access issues surrounding rheumatology, the natural expansion is to an online resource.
Welcome to rheuma.com.au, the digital home of Rheumatology Republic.
"Part of the idea here is to put the professional rheumatology community, in front of the patient. Part of the idea is to encourage

the professional rheumatologist to join in and contribute to the content, and the conversation."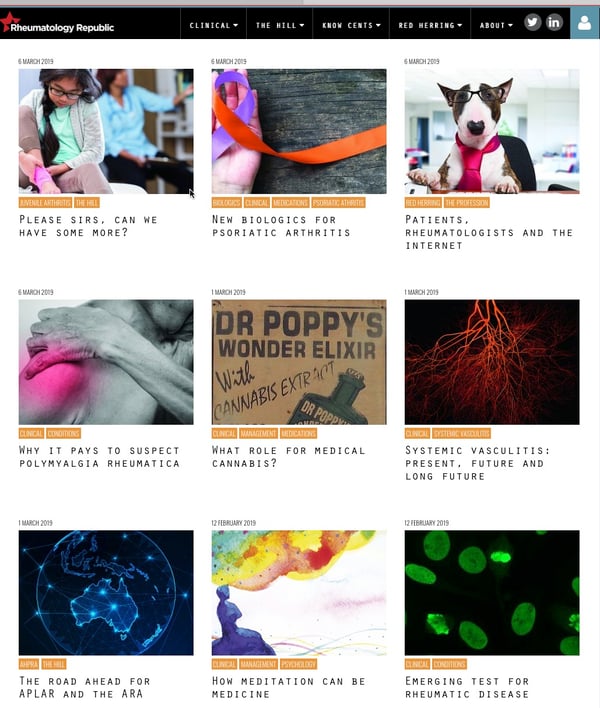 Rheumatology Republic is different from other rheumatology online sources in Australia.
The content is assessable to the public, with few exceptions (for eg the public is protected from advertising so the site can distinguish between health professionals and consumers).
This same content has been written for rheumatologists, rheumatology health professionals, and all doctors with an interest in rheumatology. The physical newspaper is distributed to 2300+ practitioners in Australia!
And importantly, the content is curated and/or created by medical journalists with the help of an editorial board from all walks of the rheumatology (you can meet them here - http://rheuma.com.au/editorial-board ).
Other BJC Health staff are doing their bit. Sarah Comensoli, exercise physiologist-extraordinaire, is on the editorial board and will represent allied health professionals and ensure a balance of content. Andrew Jordan is contributing a regular column to help demystify how rheumatologists approach common rheumatic diseases.
Rheumatology Republic has been a the logical next step for me.
Please do check out rheuma.com.au
It's early days for the site and I'd love your comments on how we could improve it. I hope you'll come to love the content as we work to build an engaged community.