It's hard to keep up with changes that happen in the world of footwear. Just like technology, it's always changing.
A few weeks ago, our BJC Health Physio and Exercise Physiology team were lucky enough to be joined by the team from Pace Athletic to learn more about the recent changes in the world of footwear.
Patients will often ask questions about what shoes to wear for walking and running, so it's extremely important that we keep up to date.
My take homes from the meeting were:
Running trends are moving away from the 0mm drop shoe, and instead more towards a 4-6mm drop. This is good to hear, as commonly, runners are not transitioning into the shoe appropriately, or ensuring they have strength in the right muscle groups to run in a 0mm drop shoe. Often this leads to numerous different injuries.
There is a brand of shoe called the "Hoka" (pictured below) which is popular in America, and growing in popularity in Australia. The drop is still 4-6mm, but there is a much larger mid sole, and a "rocking chair" sole. Although most popular with runners and trail runners, our team also saw a place for these shoes in our population with foot and ankle arthritis.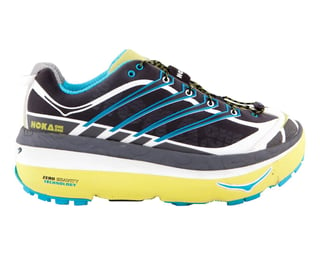 Footwear is very personal, and it is important to get fitted properly by a professional who understands your body, and your needs.
Please contact any of our physio or exercise physiologists if you would like more help in deciding what is the right shoe for you.