We've been trying to understand the people who seek help from us at BJC Health.
At our rheumatology clinics, we see around 3900 new patients a year.
We know that two-thirds of our customers are female. While 21% of the people who see us are in the 51-60 age bracket, we actually see a very broad age group, with 85% between 31 - 80 years of age, with a relatively even spread.
While I don't have the statistics for this, our impression is that we see a wide spread of people with different financial means as well as different cultural backgrounds.
Of most interest to us is their health seeking behaviours.
Why?
This is important in how we approach the people we want to help. How do we create content that appeals and helps educate? How do we present information in a way that leads to positive health change? How do we improve adherence to treatment and how do we engage, to more effectively change the lives of the people with rheumatic disease who have trusted us with their care?
This is information that we can't get from our own database without a huge volume of work in surveys followed by qualitative focus group work.
So, I found this work on "psychographic segmentation" through this group: https://www.c2bsolutions.com/psychographic-segmentation

https://www.c2bsolutions.com/psychographic-segmentation
The way people have been segmented according to their motivations, priorities and communication preferences seems to make sense. As a clinician, I can immediately recognise that the people who consult me fall into these categories.
I do better appreciate that I can shift my messaging to better match a person's attitudes, values and lifestyle. As a doctor, I am often trying to help influence behaviour and I could be more effective if I can engage people's motivations.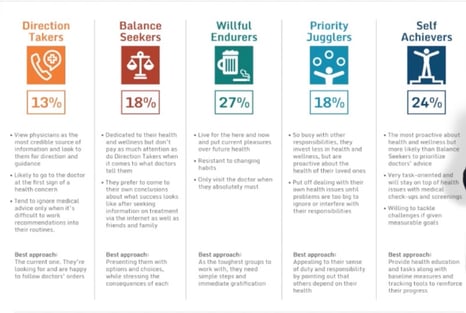 https://www.c2bsolutions.com/psychographic-segmentation
This is actually a really difficult skill and I am not yet good enough.
Can you recognise the group you might fall into?
If you are reading this blog, I would imagine you're a balance seeker or a self achiever! Feel free to correct me if I've made the wrong assumption.