This post is written by Drs Claire Barrett, Laurel Young & Katherine Poulsen.
Rheumatoid arthritis (RA) is a very common inflammatory arthritis in the community.
We really strive to control RA with disease modifying medications (DMARDs) so that we can avoid suffering and the damage that occurs to joints.
Some women develop RA in their childbearing years and pregnancy in rheumatoid arthritis can prove to be a difficult situation to manage.
Reasons for this include:
The DMARDs used to control RA vary in ability to be used safely during conception and pregnancy. For example, we would not use Methotrexate in this situation.
RA sometimes improves in pregnancy. Then again, sometimes it does not.
Leaving RA uncontrolled can cause problems with the baby, such as low birth weight.
Leaving RA uncontrolled causes more joint damage in the mother.
Leaving RA uncontrolled makes it even more challenging to cope with the pregnancy and caring for a baby.
In the past patients have been advised to stop most, if not all medications, before trying to get pregnant.
In 2016, there are actually medications that can be used during pregnancy if indicated.
Your rheumatologist can advise you on the safest medications before, during and after pregnancy for mothers as well as their babies.
Worldwide, there has been increasing support for the use of the biological DMARDs or bDMARDs in pregnancy.
One reason for this post is that we are asking for your help with an Australia-wide research project to find out more about this.
If you are a mother with an inflammatory arthritis such as RA, psoriatic arthritis or ankylosing spondylitis and have been treated with any bDMARD (abatacept, adalimumab, anakinra, certolizumab, etanercept, infliximab, rituximab, tocilizumab or with the targeted synthetic DMARD, tofacitinib) before or during your pregnancy, please volunteer to help with this Australia-wide research project to help other mothers with such diseases.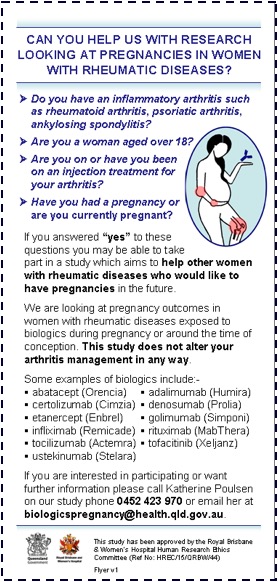 Please email biologicspregnancy@health.qld.gov.au
We do need your support.
About the authors:
Claire Barrett is a rheumatologist in Redcliffe, Brisbane who has a special interest in pregnancy and RA. She has no blog, is not on twitter but the practice she shares with Dr Young, Redcliffe and Northside Rheumatolgy, has a website in the building stage.
Laurel Young is a rheumatologist in Redcliffe, Brisbane. She is interested in furthering knowledge in pregnancy and rheumatic diseases with her colleagues and is a Senior Lecturer at the University of Queensland.
Kate Poulsen is a rheumatologist working at The Prince Charles Hospital, Brisbane. She has also trained in the field of Obstetric Medicine and has a particular interest in the management of rheumatic disease during pregnancy.