I have not previously experienced a marketing campaign of this nature. The message repeated via mail, e-mail, print ads in medical newsletters. Clever design of the media with frequent reminders.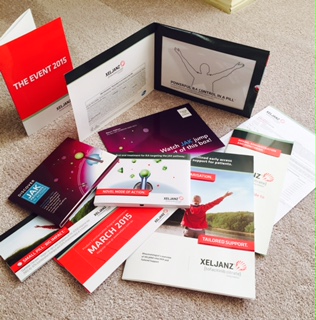 The product, Pfixer's Xeljanz. A new class of medication for rheumatoid arthritis is now available for use in Australia.
I'd written about it some years ago in this post: Tofa, would be nice if as cheap as Tofu.
It's an exciting development and rheumatologists like, want and need options for their patients with rheumatoid who have disease which has not responded adequately to treatment.
Patients in Australia are fortunate that the government heavily subsidises the use of biologic disease-modifying medications (bDMARDs) if their disease has not been controlled by conventional disease-modifying medications (cDMARDs) such as Methotrexate, Sulphasalazine & Hydroxychloroquine.
There is access to Etanercept (Enbrel), Adalimumab (Humira), Infliximab (Remicade), Golimumab (Simponi), Certolizumab (Cimzia), Tocilizumab (Actemra), Rituximab (Mabthera) and Abatacept (Orencia).
Now, we have a 9th medication to consider, after the cDMARDs. This is a good thing.
But, we aren't yet clever enough to know which of these medications is the best choice front-up for any individual patient. So, rheumatologists try to make educated "guesses" based on available evidence and their personal experience.
I summarise some earlier thoughts on how we choose here: With so many biologics for rheumatoid, how do you choose?
Specialists are usually creatures of habit. I think that's one reason for the marketing blitz.
A major point of difference for Tofacitinib (Xeljanz) is that it is taken as a pill. So, you can swallow rather than inject or get infused.
Some may see this as a major advantage, others may not. Read the comments on this post: Would you like that IV, subcut or oral?
At the time of writing this post, I do not have a patient on Xeljanz. That's surely going to change but I am grappling and considering which patient in which circumstance it would be most appropriate for.