Chances are if you need to follow a low FODMAP diet, one of your questions will be 'what can I snack on?' It is a bit of a minefield out there, as so many 'healthy' snack choices are loaded with fruit juice, high FODMAP nuts or other high FODMAP foods… it isn't just about choosing gluten free.See below for the top snacks that are safe for people following a low FODMAP diet.
Low FODMAP fruit – blueberries, strawberries, oranges, mandarins, rockmelon (cantaloupe), kiwi fruit are all safe. For a more exhaustive FODMAP list, see here.
Nuts –

Yes, cashews, pistachios and almonds may be off the menu, however this is a great chance to experiment with other nuts. Walnuts, pecans, macadamias and peanuts are all safe to use, just remember to choose raw, unsalted ones.

Muesli bars –

my favourite to recommend is the 'Fruit Free Bar' from Food for Health. This is an easy option that can be thrown in your bag, to eat. Kez's Fructose Free Bites, or Naturally Good Muesli Vanilla Toasted Cookies are some other great options.

Soup –

Sue Shepherd has released a range of low FODMAP soups, that can be easily portioned for a snack. Or, make your own! These are a great option in winter.

Soy, lactose free or rice milk based coffee –

a great way to get your calcium and some extra protein in.

Lactose free yoghurt -

such as Liddell's Natural Lactose Free. Is easy to flavour using low FODMAP fruit, cinnamon, or maple syrup.

Smoothies and veggie juices –

Those based on low FODMAP ingredients can be a great way to make your food intake more interesting. Easy options are banana, chia, cinnamon and low FODMAP milk, or spinach, cucumber, ginger and pineapple.

Natural peanut butter -

on a rice cake, or try Table of Plenty Dark Chocolate Mini Rice Cakes

Canned fish -

such as salmon, tuna or sardines, or a boiled egg is great on a cracker. Easy options are plain rice crackers, or Simply Wise Poppy Seed & Sea Salt Wafers.

Veggie sticks –

carrot, cucumber, capsicum, cherry tomatoes… plus a fab way of upping your veggie intake for the day. Serve with a low FODMAP dip – try out this homemade eggplant dip, see below for recipe!
---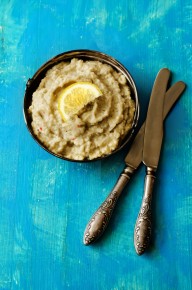 Eggplant dip
1 eggplant, roasted until soft with olive oil
1 tblspn Garlic-infused olive oil
Pinch salt
1tsp fresh parsley, chopped
Remove skin from eggplant flesh, then blend flesh with garlic-infused oil, parsley and salt.
Use on low FODMAP crackers, vegetable sticks, or instead of butter or margarine in sandwiches or on toast. Will keep in fridge for a few days. If you want to keep track of low and high FODMAP foods, we've created a handy list. Download your copy here.
You can also check out my conversation with the Huffington Post on desk snacks here.