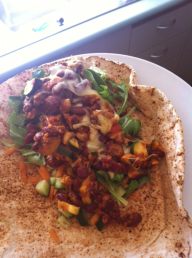 Add this spicy bean dish to your diet!
Ingredients:
1 can red kidney beans
½ punnet cherry tomatoes, chopped
½ zucchini
2 mushrooms
1 clove garlic
½ red capsicum
1 carrot, grated
3 large spoons tomato salsa
½ pack Old el paso burrito mix (use half to reduce amount of salt in dish)
½ cucmber- Lebanese
3 Handfuls mixed lettuce leaves
1 small handful shredded cheese
3 Khobz wholemeal wraps
Method:
Place beans in plastic bag and mix with burrito mix
Stirfry bean mix, garlic, zucchini, mushrooms, capsicum, tomato and salsa
Heat wraps for approx. 15sec each in microwave
Place bean mix in wrap, along with lettuce, carrot, cucumber and cheese
Serve
*These are quite large serves*
Enjoy!
Chloe
(BJC Health Dietitian at Chatswood, Parramatta and Brookvale)