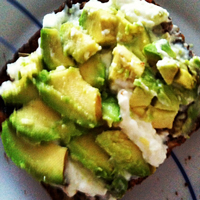 Here's a quick, easy and healthy breaky idea.
Ingredients:
¼ Avocado (can have up to ½ if not trying to lose weight, if desired)
2 tbspn low fat ricotta or cottage cheese
2 teaspoons vegemite
2 slices wholegrain toast
Method:
Toast bread, spread with 1 tsp of vegemite on each slice
Spread 1 spoon of ricotta on each slice
Spread avocado across the top.
As an alternative, smash the ricotta and avocado together and spread across toast as a paste.
Serves one for breakfast.
Enjoy!
Chloe
(BJC Health Dietitian at Chatswood, Parramatta and Brookvale)