Some of you may have known that over the past 6-12 months, Monica, Kate and I have been working hard to put together the first ever BJC Health cookbook.
Titled Anti-Inflammatory Eating: Recipe's from your Dietitian's Kitchen, the cookbook provides over 50 recipes to help manage a range of inflammatory conditions (including arthritis in its many forms) as well as a number of lifestyle-related conditions.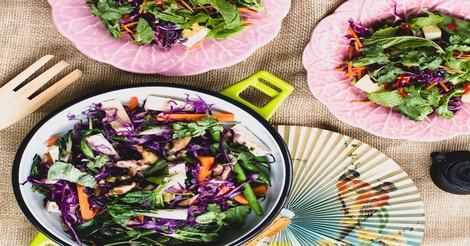 Our initial aim when producing the cookbook was to work with people with specific inflammatory conditions like, in particular, Rheumatoid Arthritis or Psoriatic Arthritis.
As we progressed, however, it became clear that it was not just people with these inflammatory conditions who could benefit from eating this way.

Though we do make reference to these specific conditions, the recipes are based on eating whole, real foods with scientifically-based evidence showing that most people will benefit from eating this way, not just those with chronic conditions. In fact, research suggests that eating this way can be preventative to a wide range of conditions as well, but particularly lifestyle-related conditions like diabetes and obesity.

In this eBook, you'll find over 50 delicious recipes, each with a specific mention as to who it is suitable for (Vegan, Vegetarian, Pescatarian, Gluten-Free, Dairy-Free, FODMAP-Friendly).
The cookbook includes recipes like:
Pumpkin and Cashew Nut Curry

Whole Roasted Atlantic Salmon

Turmeric-marinated Kangaroo

Pomegranate Salad

Hazelnut & Banana Smoothie

Nutty Chocolate Slice
Most recipe's also show how they can be modified to suit a low FODMAP diet.

We look forward to hearing your feedback!