People take in information best, in various ways.
I've been interested in improving my own practice for many years and one specific golden opportunity for rheumatologists to do some good is in educating and engaging the person who has just been diagnosed with rheumatoid arthritis (RA).
It's a scary time. Dealing with a disease which changes life, and which is generally going to be a life long problem, is not easy.
For most, I am sure the typical consultation setting is inadequate to provide the support people require.
To supplement this, many rheumatologists in Australia provide their patients with information sheets, typically the one produced by our Australian Rheumatology Association in partnership with Arthritis Australia (here's the link for this infosheet).
I feel that this infosheet is very limited. And it's not particularly visually appealing or engaging.
Medical jargon is also confusing.
We can clearly do better. Over the years, our practice has experimented with introductory emails, with one-on-one sessions with an RA disease educator, with my blog posts on RA, with the Empowered website, and with short videos to try and help this space.
I think we need lots of different options as different types of information and different types of media will appeal to different people.
In addition, different levels of information are likely needed at different times in a person's passage through dealing with an illness.
I write this post to highlight Rheumatoid Arthritis Xplained (http://www.raxplained.com.au).
This is an attempt to help the newly diagnosed person to understand RA a little better. Medical jargon is removed with the illustrated flip-through story following the life of Carly, a 32-year-old mother of two.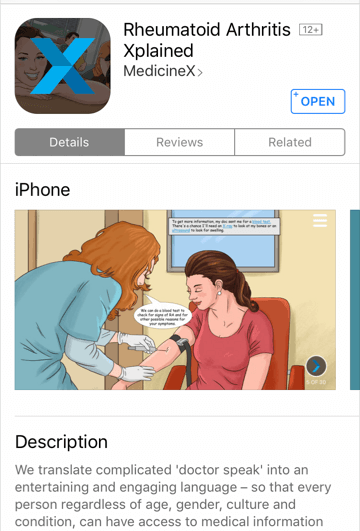 The team at Medicine X have done a good job with their storytelling. I was fortunate to have a small involvement in this project and I do hope it will provide a useful medium to help some people at the start of their journey with RA.
You can download the app through this link or view in on the web here.
What do you think?
Does having an illustrated story complement the written information you might have previously received?