Nic is one of Dr Herman Lau's patients. She really wanted to share her story of weight loss with the hope it will inspire others. The following are her words:
I have always battled with my weight for as long as I can remember and had a number of unsuccessful attempts at losing weight. I lost the weight and then put it back on plus some more.
I was diagnosed to have psoriatic arthritis in March 2015 and tipping the scales at around 100kgs. My inflammation levels were high (ESR 45 and CRP 20) Medications were partially effective and I was started on a biological agent eventually to suppress my immune system.
Obviously losing weight would help with this all. I was in pain all day every day and I did not have the courage to confront this. I dealt with the pain with comfort eating. My weight went up to 110 kg and in September 2016 I started on a weight loss program.
I made a goal of needing to lose 40kgs. I started with the meal replacements and twice weekly aqua aerobics classes (these are great as you are near weightless in the water so less pressure on your joints). I added in short walks each day and remember them being painful and just wanting them to end, but I persisted.
My weight started to drop and I was able to increase my exercise and added in more things for variety and to keep me motivated. My weight and inflammatory markers fell steadily and I was able to move much easier. I now do a 5km walk five days a week, two one hour aqua aerobics classes a week, two PT sessions with a trainer and an hour boot camp each week.
I have never imagined I would be able to exercise to this level on a daily basis. I now love being physically active and I can do things I never imagined I could do.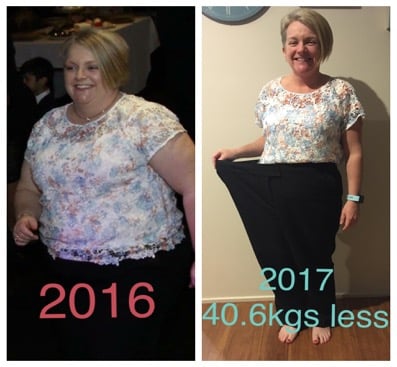 In 2017 I completed the Mothers Day Classic 8km walk, Blacktown Running Festival 10km walk and the City 2 Surf as well as the Tough Mudder Half Mudder.
It took me 45 weeks to lose 40kgs. This has given me a new lease on life and a different outcome for my arthritis.
My inflammatory markers are now normal and I am on very little treatment for my arthritis. Weight loss was the reason for this. I am just a normal 42 year old women who was obese and got arthritis – with determination and dedication I was able to regain my health and decrease the inflammation from my arthritis to a normal level. I rarely take anti-inflammatories now
My advice to for those who are going through the same is to start small and add more as you go along. As your weight decreases your strength increases and things become a lot easier.
Another tip is to share your goals and plans with others. It makes you accountable – eg sessions with a PT, or meeting a friend for a walk or at the gym.
Surround yourself with people who support you and cheer you along.
I have reversed a lot of the symptoms of my arthritis and improved my health and strength in a huge way. When you have goal and are determined and surround yourself with the right people you can achieve anything you set your mind to.