Our rheumatology care coordinator, Flora, made me aware of this joint damage simulator for rheumatoid arthritis (RA) and psoriatic arthritis (PsA).
We try to generate an email introducing her to people who are newly diagnosed in the clinic, with a range of useful weblinks to help empower and educate.
An example is this link (click here) to a page with loads of resources for RA.
She's now found this simulator which she's going to add as a link on the introductory email.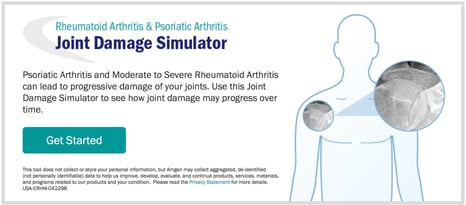 To test out the simulator, click here.
I worry that it could be quite confronting.
On one hand, it's the reality and I know many rheumatologists, including myself, will at times use fear and scare people into understanding what will happen if we do not switch off the excessive inflammation in these diseases.
On the other hand, is it too much, too soon?
Will provision of this type of frank knowledge lead to an ostrich effect?
The last thing we would like is to scare someone so much they end up sticking their head in the sand.
What do you think?