From the ACR Scientific Meeting, Washington DC, November 2016.
The results of the EXXELERATE trial were presented by Dr Roy Fleishmann, and I share my notes today.
For the formal paper, please see this link (abstract).
It's an important trial because it represents a head-to-head study between 2 biologic agents. These tend to be rare.
It's also a big deal because it's the 1st time a TNF inhibitor (TNFi) has been compared head-to-head to another TNF inhibitor within a randomised controlled study design.
The set-up for this study:
Patients with Rheumatoid Arthritis who were non-responders to Methotrexate (MTX) alone
Randomised to either the Certolizumab + MTX arm or to the Adalimumab + MTX arm
2 year duration
Initially a 12 week double-blind period, after which those who did not respond were swapped from the starting TNFi to the other TNFi
A Primary responder at 12 weeks was a person who reached a DAS28 <3.2 (this implies a low disease activity state) or a person who achieved a reduction of >1.2 points in from the baseline DAS28
A week 24 secondary responder (and remember that non-responders at week 12 were swapped to the other TNFi) had to meet the same criteria as the point above.
EXXELERATE was a brave trial, with the objectives:
To show superiority at Week 12 for Certolizumab over Adalimumab (ie to show Certolizumab works faster given it utilises a loading dose)
To show superiority at Week 104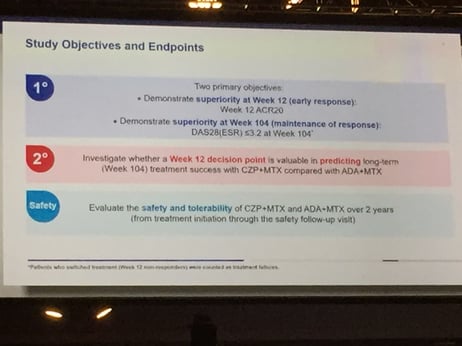 Bottom line?
No difference in the measures that count.
In effectiveness: Certolizumab + MTX = Adalimumab + MTX at week 12 and after 2 years.
In safety: Certolizumab + MTX = Adalimumab + MTX over the 2 years.
While not the result the manufacturers responsible for the trial were hoping for, it's a useful result and an important one to add to our body of evidence.
What the study did show, for the 1st time, in a head-to-head study, was that those patients who were primary non-responders to a TNFi at week 12, could then be swapped to a 2nd TNFi with a response rate of about 60%.
Conventional practice for many rheumatologists with their patients with rheumatoid arthritis is to assume a primary non-response to a TNFi signifies that particular patient is much less likely to respond to another TNFi as the medication will be working via the same pathway, and that we should then swap the patient to other agents effective in rheumatoid arthritis with different modes of action (eg inhibition of IL-6, or inhibition of B-cell function, or inhibition of CTA-Ig, or inhibiting the JAK-STAT pathways).
EXXELERATE suggests that we could achieve similar results just swapping to another TNFi (until we develop more precise ways to help inform our use of medication).
What is your experience of this?