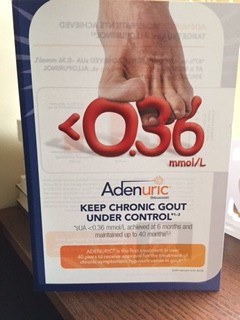 Febuxostat (Aussie brand: Adenuric).
The Australian Rheumatology Scientific Conference concluded early this week. I attended a symposium on gout where this medication was being discussed as it has only just become available in Australia.
Gout is a frustrating disease. Or rather, gout sufferers can be frustrating. It's a truly curable arthritis! And yet, our success rates are poor.
Use of effective medication is haphazard, patients not returning for follow up is common, acceptance of unsightly tophi is unfathomable.
And yet, we have an extremely effective medication in Allopurinol. At the right dose (and that's the important bit - read here), Allopurinol leads to a reduction in uric acid which in turn reduces and eventually stops recurrent attacks.
My colleague, Herman Lau, has written some easy-to-understand info for our patients with gout, read here.
Allopurinol is cheap, easy-to-access, and generally well tolerated. In Australia, we have access to few effective alternatives (apart from Probenecid which is relatively weak in reducing the uric acid levels), so it's a problem when a gout patient can't use Allopurinol for some reason.
That's where Febuxostat comes in.
The situations I think I'll be using it in are:
When patients have side effects to Allopurinol. Think rash or a hypersensitivity reaction.
When we can't achieve adequate suppression of the uric acid level in patients on Allopurinol at appropriately high doses and who are actually taking the medication.
In those with reduced kidney function (where use of Allopurinol can be a little trickier).
In those who just don't want to retrial Allopurinol due to a previous "bad" experience.
This new medication is not going to be changing the psyche of the gout patient. It's however nice to have an effective alternative to Allopurinol in Australia.
Do any of you have experience with Febuxostat?