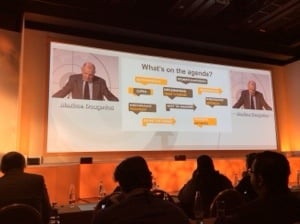 By Dr Irwin Lim
I'm lucky enough to be writing this from Prague. It's around 4.30am and I am wide awake. Usual story with jetlag.
I'm attending an Immunology Summit here, with lots of the big guns in rheumatology presenting and sharing their perspective.
The overarching theme of the meeting is T2T.
Treat-to-target.
This is a concept well developed in Rheumatoid Arthritis. At the start of the disease, the rheumatologist involves the patient in a discussion about setting a target. Disease is then monitored regularly and the target measured. If the target has not been reached, the treatment is modified and usually intensified to reach the target.
Usually the target for the rheumatologist is a very low level of inflammation and some concept of remission. The target may be very different for the patient and more linked to symptoms and function. Some combination of both perspectives are aimed for.
By doing this, outcomes have been shown to be improved. Solid outcomes such as less joint damage, less loss of function and work, and improved quality of life.
At this meeting, the chairperson and steering committee were more provocative.
They extended this T2T concept to a range of other diseases we treat: Psoriatic Arthritis, Ankylosing Spondylitis & Spondyloarthritis, and Systemic Lupus Erythematosus (SLE).
Speakers framed their talks and discussions around this. Can outcomes be improved by treating to a target? What exactly is the target? How to we derive realistic ways to measure and document the target in diseases with protean ways to manifest themselves, meaning the symptoms and signs can differ between individuals and also differ between a specific individual at different timepoints.
Now, my disclosure is that I do believe, relatively strongly, in the T2T concept for Rheumatoid Arthritis. I want to believe in it for the other diseases but I do need to mull over it and we do need a more robust body of evidence.
There are plenty of skeptics, as to how T2T can be implemented in the "real world". Here are some reasons why:
1) The problem with setting the target. This is not easy as already suggested above.
2) Measuring the target. The majority of rheumatologists do not perform composite disease measurements. The majority of rheumatologists do not use patient-reported outcome measures (apart from asking "How're you doing?" or something similar). If you don't measure and document, and rely on gestalt, it's hard to implement T2T.
3) Seeing patients sufficiently regularly to implement the more frequent changes of treatment required to achieve the target. In active rheumatoid arthritis, patients should be seen 1-3 monthly. In locations where rheumatologist supply is an issue, or in very busy, resource-limited clinics, this is not viable and the time between clinic visits may be considerably longer. Also the time afforded to discussion to achieve a shared target is likely to be curtailed.
4) We still need long term data (except for rheumatoid arthritis I think) that more frequent treatment changes, and generally more intensive or potent treatment leads to more benefit than harm.
My bias is that the quicker and more completely one controls an underlying inflammatory disease, the better life will be for the patient, both short-term and in the very long-term.
I however appreciate there are caveats.
Share your thoughts?