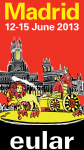 By Dr Irwin Lim, Rheumatologist
Another EULAR (European League Against Rheumatism) annual meeting comes to an end. A hectic, sun-drenched few days in the grand city of Madrid.
I tasted some flavours of Spanish life while sampling many morsels of rheumatology.
As I review what I learned, I thought I'd list a few highlights from the sessions I was able to attend, having picked between the many concurrent sessions laid out for the 14,000+ delegates at the sprawling and excellent IFEMA conference centre.
These are my personal take-home messages:
I was made aware of the pitfalls and failing of MRI when used in axial SpA. MRI's sensitivity is only 40-50% in axial SpA (i.e. under diagnosis if you're over reliant on the MRI. Using gadolinium adds little in detection of sacroiliitis. While there is a modest incremental value of combining sacroiliac & spinal MRIs, this does increase the false positive rate (i.e., over diagnosis).
Research in psoriatic arthritis (PsA) has lagged that in Rheumatoid Arthritis (RA) and most therapies form PsA have been borrowed from RA. This is changing. Many abstracts & talks highlighted that the impact of PsA can be as severe as in RA. It can be a BAD disease and unfortunately one that remains relatively invisible & under-recognised.
Abatacept, CTLA Ig (phase 2 trial), showed some efficacy in PsA with both joint and skin improvement, albeit less so in the group of patients having previously failed TNF inhibitors (TNFi).
Ustekinumab, an IL12/23 inhibitor (phase 3 trials) & Brodalumab, an anti-IL17RA antibody (phase 2 trial) seem effective in PsA for joints, enthesitis and dactylitis. Both are highly effective for psoriatic skin disease. And both agents seem useful in patients who have previously used TNFi.
Apremilast, a PDE4 inhibitor (phase 3 trials) is also effective in PsA. This seems a well tolerated, oral medication with the main side effect of mild to moderate gastrointestinal upset.
In lupus (SLE), disease activity predicts damage. Recurrent flares are bad. Untreated, persistent activity is bad. In addition, if organ damage occurs early, this does predicts increased chance of death. As this is known, we tend to use a lot of steroids in SLE but prednisone is thought to be responsible for 30-80% of the organ damage seen in SLE over 15 years! A 2-edged sword. Strategies to reduce use of steroids in SLE should be employed where possible.
Plaquenil is useful for ALL SLE patients. Benefits include a major role is prevention of flares, long term reduction of organ damage, it reduces lipid levels, it reduces thrombosis, it enhances the Mycophenolate response in lupus membranous nephritis, and overall, it leads to improved survival.
Vitamin D levels below 100 mmol/L (40ng/ml) in lupus should be replaced. This seems to reduce disease activity, the level of protein in urine & reduces blood pressure.
There is difficulty in running trials in SLE due to the many different ways this disease manifests. The severity of SLE also varies greatly and trials tend to focus on the more severe end. Various biologics were discussed including Belimumab, Rituximab & Abatacept. More work needs to be done to work out which types of patients are the most appropriate candidates for these agents.
Odanacatib, a Cathepsin K inhibitor, is effective in increasing bone mineral density (BMD) in women who had been previously treated with at least 3 years of Alendronate, a bisphosphonate. Odanacatib represents a new mode of action in treatment of osteoporosis, distinct from the bisphosphonate medications.
Romosozumab, a Sclerostin inhibitor leads to large BMD increases in a group of post-menopausal women with low BMD (phase 2 trials). Sclerostin is an inhibitor of Osteoblast-mediated bone formation so blocking sclerostin would seem an effective strategy. Another new mode of action in treatment of osteoporosis.
As we get better at treating RA, attention has turned to treating patients earlier & earlier with the ultimate goal of prevention. Terms being used include early vs very early RA, extremely early RA, pre-RA and seropositive arthralgia. Work is being done to actually define these so that those running & interpreting trials are speaking the same language.
Serum proteins are being used as Biomarkers for RA. Measuring multiple proteins involved in the pathogenesis of RA can help create a disease signature and this may ultimately help us personalise treatment aspects. Already the Vectra DA biomarker disease activity score is being used in trials and in the USA.
The rise of the patient as a partner for research & development of guidelines is clearly happening. What the rheumatologist sees & what the patient sees/feels are different. We (are starting to) get it!
Well, I'm going to pack now. There's a long plane trip back to Sydney to contemplate.
Dr Irwin Lim is a rheumatologist and a director of BJC Health. You should follow him on twitter here.
Arthritis requires an integrated approach. We call this, Connected Care.
Contact us
.
This blog focuses on arthritis, healthcare in general, and Connected Care. Please subscribe to keep in touch: