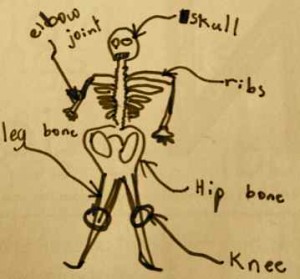 By Dr Irwin Lim, Rheumatologist
A year ago, I started this blog with the question "Why bother blogging?".
Over 100 posts later, I think I have a better answer but it's taken time to develop that realisation.
Like other doctors contemplating social media, I had a number of fears which I wrote about in "why bravery is a prerequisite to start a blog".
Fear 1: Exposing myself to the public
Fear 2: What if people don't find what I write interesting or useful?
Fear 3: What if someone makes negative comments?
Fear 4: What would my medical colleagues think?
Over 100 posts later, I'm glad to report that these fears are no longer such an issue.
Of course, I think about what I write and I'm careful what I tweet but this caution doesn't stop me from expressing a view. I'm glad to have received enough feedback to suggest that people actually read this stuff. Some even leave a comment (please do!) and I've even found some new colleagues & collaborators through this medium.
Luckily, negative comments have not been an issue. My medical colleagues? Well, I think the responses range from indifference to uneasiness. I wasn't really looking for congratulations which is a good thing, because that's been few and far between.
All this has helped answer "Why bother blogging?"
Well, I now blog because I think it makes a difference.
There are only a handful of rheumatologists worldwide who bother. I am not aware of any other Australian rheumatology practice that bothers. This is a shame given our specialty suffers from a general lack of profile. People don't know what rheumatologists do and what we are capable of. And this is to the detriment of the many people who suffer from arthritis & musculoskeletal disease. People/patients who typically get delayed diagnoses, who are not given appropriate treatment, or who have their disease trivialised.
I write to educate, to raise awareness, to entertain, and sometimes, to make a point.
Often, I learn something about something, & sometimes, something about myself as I write this rheumatology blog.
Dr Irwin Lim is a rheumatologist and a director of BJC Health. You should follow him on twitter here.
Arthritis requires an integrated approach. We call this, Connected Care.
Contact us
.
This blog focuses on arthritis, healthcare in general, and Connected Care. Please subscribe to keep in touch: