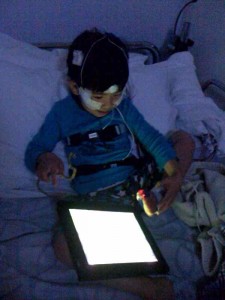 By Irwin Lim, Rheumatologist
The boy in the pictures is my son, D. He's hooked up to a series of monitors as part of an overnight sleep study. He was 4 years-old and a snorer.
We had noticed some loud breathing as he slept. This worsened whenever he developed a cold or flu-like symptoms and at some stage in the 2nd half of 2010, he started to actually snore. At times, he would snore loudly and then seem to stop breathing. This would be followed by a snort or a gasp for air, before the pattern recurred.
The overnight sleep study confirmed obstructive sleep apnoea. This was followed by a visit to the ENT surgeon. D had pretty large tonsils which were the likely cause for the obstruction of his airway. This obstruction would worsen when this glandular tissue swelled with infection.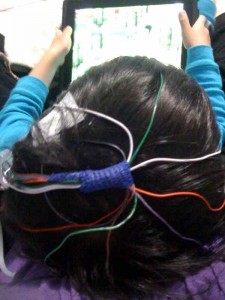 In February this year, he had a T&A (tonsillectomy & adenoidectomy) to remove these glands. The poor boy of course had difficulty swallowing for the 1st week after, and developed a shrill, irritating voice for a few weeks, but the recovery was otherwise quick and uneventful. His appetite has improved, as has his phonation. Best of all, he sleeps better. No more snoring and gasping.
Obstructive Sleep Apnoea is a common condition in adults. Often, it's undiagnosed.
Common symptoms include:
Feeling tired all the time
Being irritable
Forgetfulness
Feeling sleepy all the time & in some cases, falling asleep during the day
Headaches
Generalised aches & pains, often without a clear causes
Untreated, this condition also worsens hypertension and can increase risk of cardiovascular disease.
At BJC Health, our team often see patients complaining of persistent fatigue or extreme tiredness. As a rheumatologist, I often see patients with previously unexplained aches and pains.
A common question I ask: Do you snore?
Dr Irwin Lim is a rheumatologist and a director of BJC Health.
BJC Health provides a connected care multidisciplinary team philosophy to deliver positive lifestyle outcomes through a holistic approach to those with degenerative & inflammatory arthritis, tendon injury and lifestyle diseases. Our clinics are located in Parramatta, Chatswood and Brookvale. Contact us.
This blog focuses on arthritis-related diseases, healthcare in general, and our Connected Care philosophy.
Stop Press: Stopping recurrent fractures after suffering a fracture from weak bones (osteoporosis) is a priority. We have launched our Refracture Prevention Program at our Parramatta clinic to stop bones breaking.