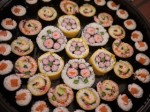 By Monica Kubizniak, Dietitian
Have you been referred to a dietitian and cringed at the thought of having to give up the food you enjoy?
Have you ever celebrated a final feast before your "diet" begins?
Many of my clients can relate to these thoughts and actions. As a dietitian (especially one who loves food), I understand making dietary changes can be challenging in this day and age of long work hours; busy family meal times; and social gatherings. Managing your food cravings tend to be a low priority when life is flying past. What makes it even more challenging are the thousands of food products available and conflicting nutritional advice from many programmes with the promise of long lasting results.
As a dietitian, I am able to make sense of the various food labels and assess if diet or weight loss programmes are appropriate for particular individuals. My belief is that one can improve health and gain extra energy by following a balanced lifestyle approach.
There are a toolbox of strategies that can be individualised to suit you whether it is learning the art of mindful eating to assist with weight loss whilst still eating your favourite foods; or introducing specific cholesterol lowering foods into your diet; or using the low GI (glycaemic index) concept to better control your blood sugar levels.
A solution can be found for you.
I have been fortunate to help many people with their goals within a realistic framework. Please share with me any difficulties that you may have had in commencing a "diet" or seeing a dietitian. I would really like to hear from you.
Monica Kubizniak is a dietitian at BJC Health.
BJC Health provides a connected care multidisciplinary team philosophy to deliver positive lifestyle outcomes through a holistic approach to those with degenerative & inflammatory arthritis, tendon injury and lifestyle diseases. Our clinics are located in Parramatta, Chatswood and Brookvale. Contact us.
This blog focuses on arthritis-related diseases, healthcare in general, and our Connected Care philosophy.