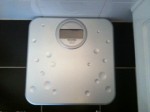 By Errol Lim, Physiotherapist
It has not been that hard. Breaking the 80 kg barrier is a wonderful personal milestone. It has been a few years since I have seen such numbers when standing on the weighing scales.
I won't lie as it has taken some effort but by no means has it been torturous. Monica, my dietitian has an innate ability to motivate change especially in a facet of my life which I have held on to so dearly for my entire life - eating well. Eating has been my first love which I am sure many of you can appreciate. It has given me such pleasure but with a poor family history of high blood pressure, heart attacks and strokes, it was time for change.
I always knew that dietitians asked their clients to fill in food diaries but I did not realise the significance until doing one myself. Having to write down every single item which goes through your mouth on a piece of paper is a very powerful tool. It makes you think twice before eating something. It also gives you and your dietitian an overall picture of what you are ingesting through the week allowing for appropriate monitoring and goal setting.
I attribute my success thus far to Monica. She has not changed my diet significantly but has made me eat at more appropriate times, and given me food options and advice which I have never considered before. It is obvious that my metabolism is much improved. Weekly reviews with Monica have been necessary to allow for smaller achievable goals to be set. Her encouragement at these weekly sessions have been vital. I liken it to an athlete training hard to please their coach.
As of today, I have lost about 5.5kg in weight and my blood pressure is on the way down. I feel the best I have felt for the past 5 years, thanks to a combination of dietetic, physiotherapy and exercise management.
Perhaps this can inspire those of you who have a busy schedule just as I do. It would be great to hear from you.
Errol Lim is a physiotherapist and a director of BJC Health.
BJC Health provides a connected care multidisciplinary team philosophy to deliver positive lifestyle outcomes through a holistic approach to those with degenerative & inflammatory arthritis, tendon injury and lifestyle diseases. Our clinics are located in Parramatta, Chatswood and Brookvale. Contact us.
This blog focuses on arthritis-related diseases, healthcare in general, and our Connected Care philosophy.