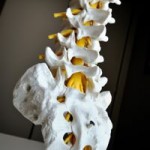 Thank you to all who have sent their well wishes to my wife.
It's day 3. She's very much better. M can now walk without crutches and can even sit more comfortably. The numbness at the right foot has disappeared and she has strength at the ankle.
The discomfort has "centralised". She now has a deep ache at the right buttock, without the right leg symptoms. This is a good sign.
This morning, she had an MRI scan of the lumbar spine. The musculoskeletal radiologist brought us into his room to discuss the findings. Normal. No disc bulge. No pinching of the nerve root. Really good news.
What caused it then?
She was in so much pain, with classic symptoms. Sciatica describes pain travelling from the lower leg to the buttock, and then down the leg. The pain can be described as shooting or sharp. It can be accompanied by tingling, pins and needles, and numbness. While pressure on a nerve root ("pinched nerve", typically due to a bulge of an intervertebral disc) is a common reason, there are a number of other causes. She could have had piriformis syndrome but the cause remains uncertain.
M's situation was also quite unusual. Within a couple of hours of the pain moving down her leg, she was assessed by a rheumatologist and a physiotherapist, and she was very promptly commenced on high dose anti-inflammatory medication.
The reason for her pain was also explained to her. I feel that this education and reassurance is very important for a person's recovery as it alleviated anxiety and helps reduce aggravating activity. The importance of this is often underestimated.
A word of caution. Anti-inflammatory medications need to be used very carefully, as these medications have many possible side effects. While they can be used relatively safely with your doctor's guidance, this does depend on the other medical conditions you may have.
In M's case, the doses of her medications are being rapidly reduced. She commenced physiotherapy with Pearce today, our spinal guru at BJC Health Chatswood, and I'm ensuring she does the exercises prescribed at home.
The Xmas party will now be at our home. She still won't be able to tolerate a 2-hour car trip to the Central Coast. She should however, be able to help, so that I don't have to do all the cleaning, cooking and setting up!
Dr Irwin Lim is a rheumatologist and a director of BJC Health. BJC Health provides coordinated, comprehensive, and colocated multidisciplinary care to achieve effective solutions for patients. We call this model of care, Connected Care. Our clinics are located in Parramatta, Chatswood and Brookvale. Contact us.
This blog focuses on musculoskeletal disease, healthcare in general, and our Connected Care philosophy.