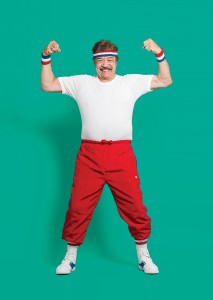 Week three of MOVE-mber is upon us, which means we are officially over the halfway point!
How did you go in the first half of MOVE-mber?
Did you get in 30 minutes worth of exercise each day?
How is the moustache growth progress tracking?
We've curated a list of 7 more walks and runs across Sydney to get you through week three. They are a combination of suggestions from our physio team around each clinic area as well as some great walks in different areas of Sydney.
Monday: Community exercise equipment at Chatswood oval. The oval itself gives quite a good vibe if you want to do laps. There are often many people exercising at the same time.
Tuesday: Walking across the Harbour Bridge itself is a wonderful experience. 1.6km either way equates to a good 30 minute walk. If you are running, a few stair repeats on either end will get you to that 30 minute mark as well.
Wednesday: Freshwater to Shelly Beach, Manly is about 6km with some tough stairs at the Freshwater/Queenscliff end followed by a nice flat promenade walk to Shelly Beach where the newly opened boathouse restaurant is the perfect spot for a quick refuel!
Thursday: Chipping Norton Lakes, Liverpool has a number of walkways. One highlight is the Lake Moore Walk starting at Chauvel Park and following the lake's scenic foreshore to Haigh Park. The 45-minute return trip is approximately 3.2km and is a nice flat walk.
Friday: Glebe Foreshore Walk, Glebe is accessible for pedestrians and cyclists, and provides easy access to the water for kayaking and the like. There is an off-leash area for dogs from Pope Paul Reserve to Ferry Road which is great for your furry friend!
Saturday: The City2Surf Track, from the CBD to Bondi Beach is a great walk, albeit a long one as some of you would know all too well. It's definitely a great track if you've got a spare couple of hours on your Saturday.
Sunday: Penrith Lakes, Penrith is a great walking and running spot for those of you further out west. It was the location for the rowing events during the 2000 Sydney Olympics and is a short skip away from the White Water Rafting Stadium (also a great 30 minute workout!).
Until next week, stay active and share your photos with us on Facebook and Twitter!