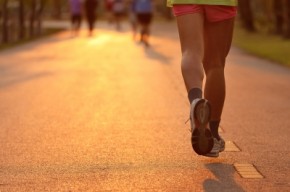 Have you ever felt like you couldn't achieve something? Felt like the task was so insurmountable that there was no way you could achieve it?
I have noticed recently people saying phrases like 'there is no way I could ever do that', '…. Just seems like it is so far away – how can I ever do it?', or other similar phrases.
But ordinary people can achieve extraordinary things. I think of some of the amazing things my clients, colleagues and friends are doing – some are competing in marathons, triathlons or iron-man events, others are competing in 100km trail running races. Some are pushing themselves with their studies or research and discovering new things. Others have made the decision that they just want to be healthier, so are making changes to their diets with extraordinary results.
I know I talk about running quite a bit, but there are some seriously inspiring people out there. I read this morning a story about a woman from Darwin who previously weighed 107kg, who couldn't run even 100m, is now competing in the New York marathon this weekend! Earlier in the year, a guy from the UK who previously weighed in at 105kg and was a smoker competed in the Olympic games in the marathon!
Just thinking about this gives me tingles!
Ordinary people CAN achieve extraordinary things. What is it that you want to achieve?
Chloe McLeod is a dietitian at BJC Health.
This blog focuses on diet & nutrition generally and diet & nutrition in relation to the treatment of arthritis and arthritis-related diseases. Contact us if you'd like our help in managing diet-related health issues.