One of the most common things I get asked for from a recipe perspective is ideas for cooking fish. As more and more of the clients I see are looking for ways of managing chronic inflammation, I have been playing with new ideas of meals to share.
See below for a new favourite, that is not only super easy, it is also super quick as well!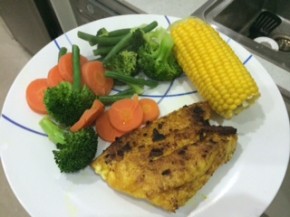 Turmeric Snapper
2 snapper fillets (approx. 120-150g each)
1.5 tsp of turmeric
1 clove garlic
2tbspn olive oil
Method:
Combine turmeric, garlic and olive oil in a bowl.
Add snapper fillets, and coat with paste.
Pan fry in hot pan (no extra oil is necessary)
Serve with mixed salad or vegetables
Serves 2
*Feel free to add basil, coriander, parsley
From an anti inflammatory perspective, this is the bees knees, as each ingredient displays excellent health properties.
As seen here, works well with basic steamed veggies, or I also sometimes now do this with a salad.
Enjoy!
<em>Chloe McLeod is a dietitian at <a title="BJC Health" href="http://bjchealth.com.au">BJC Health</a>.</em>
<em>This blog focuses on diet &amp; nutrition generally and <em>diet &amp; nutrition</em> in relation to the treatment of arthritis and arthritis-related diseases. <em><a title="Contact us" href="http://bjchealthdiet.com.au/contact-us-2/">Contact us </a>if you'd like our help in managing diet-related health issues. </em></em>