After multivitamins and fish oil, I think this is probably the most common supplement I see that my clients are taking. Most of them either swear by it, or ask me 'does this really work; I don't think there's been a change'. I'd say it's about a 50/50 split. So what are they? And what does the evidence say?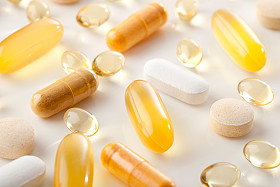 Glucosamine:
Glucosamine is one of the building blocks of cartilage that is naturally produced by the body. It is found in two forms; glucosamine sulfate and glucosamine hydrochloride. In supplements, it comes from ground up shells of shell fish such as crab and lobster.
Chondroitin:
Like glucosamine, chondroitin is also naturally found in the body. It is thought that it helps to keep cartilage healthy by drawing in water and nutrients. As a supplement, chondroitin is usually in the form of chondroitin sulfate, and made from cow or shark cartilage.
What does the evidence say?
Overall, evidence has shown that there is little difference between taking these supplements and a placebo on pain and symptoms for people with osteoarthritis (OA).
Glucosamine sulfate is thought to be more effective than glucosamine hydrochloride. That said, research is divided about it's effectiveness; studies show similar improvement in pain, regardless of if a placebo or the supplement was taken. Evidence is similar for chondroitin in relation to pain; some studies find it effective, others have found no improvement. Using glucosamine sulfate and chondroitin together may help reduce moderate to severe knee pain from OA.
In relation to cartilage, some research indicates glucosamine sulfate and chondroitin both may slow down cartilage breakdown in the knee. Chondroitin may also assist with repairing damaged cartilage.
So really, we shouldn't be surprised that half the people using these supplements feel they work, whilst the other half thinks they're a waste of time; this is exactly what the research has shown.
How much should I have?
Arthritis Victoria recommends 800-1000mg of chondroitin, and 1500mg of glucosamine, preferably glucosamine sulfate. Remember to check the label, as different brands have different quantities.
Is there any harm in taking these supplements?
There are some possible side effects. These supplements are thought to be relatively safe. Like with taking anything, make sure you check with your doctor before you start.
Chloe McLeod is a dietitian at BJC Health.
This blog focuses on diet & nutrition generally and diet & nutrition in relation to the treatment of arthritis and arthritis-related diseases. Contact us if you'd like our help in managing diet-related health issues.