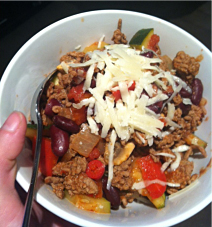 This is a variation on the chilli con carne classic I like with its good balance of veggies and protein.
Ingredients:
300g Lean beef mince
1 can red kidney beans, rinsed and drained
1 can chopped tomato
1/2 zucchini, chopped
1/2 red capsicum, chopped
1 carrot, grated
1/2 onion, diced
3-4 small mushrooms, chopped
1 clove garlic
1 red chilli
Cracked pepper to taste
Canola spray
1tsp HP Sauce/Worcestshire sauce
Grated Pecorino (if desired)
Method:
Saute garlic, onion and chilli in fry pan sprayed lightly with canola oil
Add mince, break it all up and cook until brown
Add all the other ingredients, stir
Simmer on medium heat for 5 mins, or until cooked
Serve, with basmati rice, quinoa or barley. Sprinkle pecorino on top, if desired.
Serves 4
Enjoy!
Chloe
(BJC Health Dietitian at Chatswood, Parramatta and Brookvale)