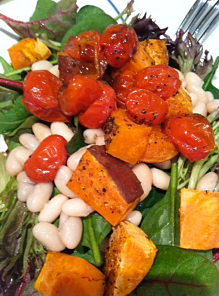 Here's a good salad for summer or any time you want to add more color to your plate.
Ingredients:
1 can cannellini beans
1 punnet grape tomatoes
½ large sweet potato, chopped into bite size pieces
Mixed Lettuce leaves
Olive oil
Pepper
Mixed herbs
Method:
Rinse cannellini beans and lettuce and arrange on plates
Place tomato and sweet potato on baking tray, sprinkle with olive oil, pepper and mixed herbs. Bake for approx. 20mins
Add tomato and sweet potato to plates
Serves 2 as a main meal
Enjoy!
Chloe
(BJC Health Dietitian at Chatswood, Parramatta and Brookvale)