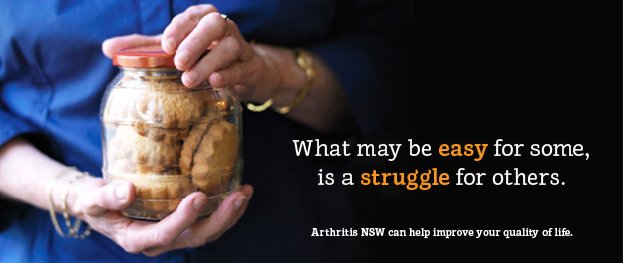 One of my things-to-do in 2015 is to establish some relationship between our group, BJC Health and our local arthritis support organisation, Arthritis & Osteoporosis NSW.
I have to admit that I've done little to-date to support this group and have had precious little dealings with their team.
I must admit I've wondered how useful support groups like Arthritis & Osteoporosis NSW are.
Most of my patients don't seem to use support groups, or at least they don't tell me about it. I assume that my patients who are doing well just get on with it. They don't bother to read this blog, they aren't likely to be searching forums.
So, do most patients need support groups?
Early this year, I visited the CEO of Arthritis & Osteoporosis NSW, Jannine Jackson. The organisation works hard to provide services, consisting of education, shared patient experiences and a sympathetic ear, for those who are looking for it.
They do this with what seems a very limited budget, with surprisingly little financial support from the government.
This does mean they have to be quite choosy in the causes they fight. A recent example is Arthritis & Osteoporosis NSW highlighting the serious lack of paediatric services for kids with juvenile arthritis. Check out the campaign here.
Support groups are dependent on members. A larger membership provides the organisation a louder voice with a stronger platform. Member subscriptions help sustain the organisation.
I've been mulling over my apathy to our local arthritis support group. Rheumatologists can do more. While most of my patients may not need their help, some do.
I do write about the need to improve awareness, in the general community and among health professionals, of many chronic arthritic and autoimmune diseases. If we are serious about this, we need very strong local support organisations.
How can I and my colleagues at BJC Health help?
How do we link those who need help with those who happily provide it?
And maybe, I should also be asking how those of you with chronic arthritis may in turn support these organisations who exist to support you?