Hydroxychloroquine (Plaquenil) is not a new therapy. It has been used in rheumatology for decades and it's proven a very useful medication. In my clinic, I mainly use it for these 3 indications:
in combination with Methotrexate for Rheumatoid Arthritis (the combination is thought to be more efficacious than either drug alone) when Methotrexate monotherapy is insufficient
in Systemic Lupus Erythematosus (SLE)
in a variety of Connective Tissue Diseases (a broad group of autoimmune disease)
I thought these photos were worth posting. The patient has rheumatoid arthritis and is actually on Hydroxychloroquine as monotherapy due to a number of other diseases restricting our use of other disease-modifying agents.
She's been using the medication for months and is finding it effective. Today, she showed me her arms: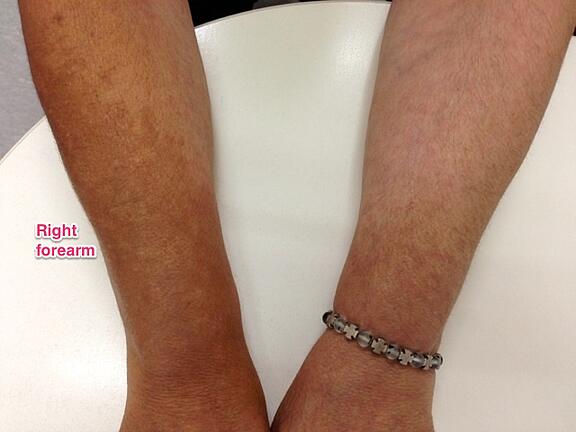 The right forearm has darker patches and the back of both hands seem affected.
I think it's due to Hydroxycholoroquine-induced hyperpigmentation (an example of drug-induced skin pigmentation).
I thought it worth showing those of you on the medication.
Why is it so much worse on the right forearm?
Well she's only just started to drive again. She holds the steering wheel generally with the right hand only and when driving in Australia, this is the side next to the driver's window. It's also summer and it's been hot. So, I postulate that it's the increased sun exposure.
How do we avoid it? It's thought that protection from the sun helps.
She's not fussed by it and was happy for me to share the photos to help teach. Other cases I've seen have been reversed by stopping the medication.