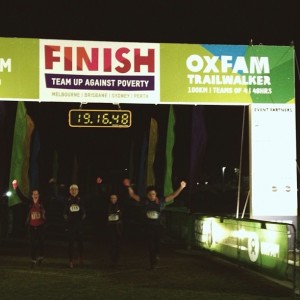 By Dr Irwin Lim, Rheumatologist
They made it! All 4 got through in a great time. 19 hours & 16 minutes! Started at 7am & finished at 2.18am.
A wonderful effort for them personally, and as a group.
Team HEROES: Rachael Butterworth, Hans Lee, Errol Lim & Sarah Comensoli
The runners were heroic. The support crew rock solid. Thanks to Amanda Fincham, Vanessa Ogata, Belinda Prince, Joanne Lee, Chloe McLeod, Jean Redmond & Jan. Thanks to all BJC Health staff who worked with the runners preparing them for the event.
Well done!
And there's still time to donate - here's the link.
Dr Irwin Lim is a rheumatologist and a director of BJC Health. You should follow him on twitter here.
Arthritis requires an integrated approach. We call this, Connected Care.
Contact us
.
This blog focuses on arthritis, healthcare in general, and Connected Care. Please subscribe to keep in touch: