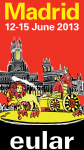 By Dr Irwin Lim, Rheumatologist
Last year, I attended the European League Against Rheumatism's (EULAR) Annual Congress in Berlin. So did 15000+ other delegates!
It was my first EULAR meeting (some highlights were documented here). It's actually quite hard to navigate through a meeting that size. Too many concurrent sessions. Time between sessions spent searching and rushing to the next hall.
This year between June 12-15th, it's being held in Madrid. I'm going to pace myself and plan a little better.
I downloaded the EULAR 2013 app, and I've spent the last couple of nights trying to work out what I'll do at the congress.
You can search topics, search presenters, or just browse the sessions. There's even access to abstracts.
When you find something you'd like to attend, you can add it to your favourites.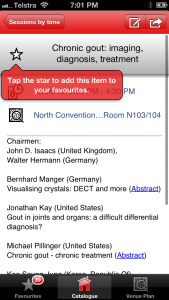 This list of favourites can be configured and sorted.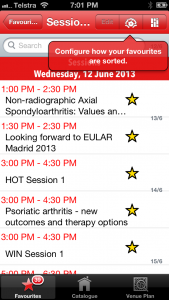 From this, you can generate your personalised schedule.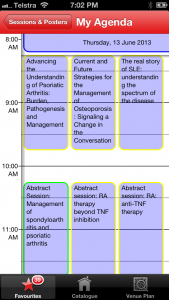 As you can see from mine, I'm still undecided and plan to attend multiple simultaneous sessions! Maybe my twitter rheumatology buddies can help as they live tweet from their sessions.
All in all, a very useful and well thought out app. So if you're attending EULAR 2013, check it out.
Dr Irwin Lim is a rheumatologist and a director of BJC Health. You should follow him on twitter here.
Arthritis requires an integrated approach. We call this, Connected Care.
Contact us
.
This blog focuses on arthritis, healthcare in general, and Connected Care. Please subscribe to keep in touch: