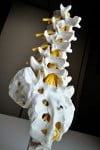 By Dr Irwin Lim, Rheumatologist
Up to 5% of patients with chronic back pain have an Inflammatory cause for the spinal symptoms rather than or in addition to, mechanical/degenerative reasons.
The prototype cause of inflammatory spinal disease is Ankylosing Spondylitis (for a description of this, follow link).
The problem is that the diagnosis of Ankylosing Spondylitis (AS) depends on seeing damage on Xrays of a particular area of the lower back/buttock region, called the Sacroiliac joints. These changes are called sacroiliitis.
When severe, and typically late in the disease, sacroiliitis is easy to diagnose (animation link).
However, it is true that the Xray diagnosis can be very difficult earlier in the disease.
It's well understood that it may take years for these changes to be apparent, and therefore, the diagnosis is not made for years. It's delayed.
To try to address this, the concept of Axial Spondyloarthritis was developed by the Assessment of SpondyloArthritis international Society (ASAS group).
Axial Spondyloarthritis (axial SpA) refers to inflammatory disease in which the predominant symptom is back pain, and where radiological changes of sacroiliitis may or may not be present.
Now, this relatively new term confuses many, including many rheumatologists who may not be used to it. It's however a concept that is here to stay. Current medical literature, both textbooks and scientific journals, will refer to this term so I thought it would be good to give you some handle on this.
Within this axial SpA group, you then have 2 subgroups:
Ankylosing Spondylitis (AS) - this is the diagnosis when the Xray changes for sacroiliitis are clearly present
Non-radiographic axial spondyloarthritis - this is the type of axial SpA in which the Xray changes are not present. This term is a mouthful, usually abbreviated to non-radiographic axial SpA or nr-axSpA.
Non-radiographic axial SpA is diagnosed when there is a typical story for inflammatory back pain, with other clinical criteria pointing to it or by typical changes on MRI showing active inflammation of the bone.
So think of the term Axial SpA as an attempt to encompass both patients with late stage disease, Ankylosing Spondylitis, and those with earlier stage disease, non-radiographic axial SpA.
BJC Health established the Sydney Spondyloarthritis Centre in 2011. We raise the profile of these diseases, we provide a better pathway to diagnosis, provide education as well as world-class treatment. Most importantly, we care & we want to improve the lives of people suffering from these diseases. Read about it here.