By Dr Irwin Lim, Rheumatologist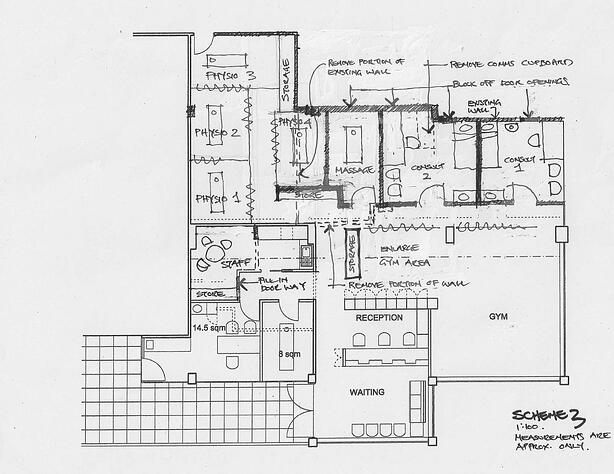 The layout above is a preliminary sketch to expand one of our clinics. If we could get more space, someday.
Our clinics have all evolved over time, and as we've grown, we often need more room. Room to fit more people. Room to fit more services.
It's definitely not ideal growing in this way, as space is always at a premium and you end up compromising on the layout with effects on the general workflow of a busy clinic.
With this in mind, we have set ourselves on a 5 year planning phase for an Arthritis "Super"-Centre, an integrated hub to deliver the type of Connected Care, patients suffering from rheumatic disease deserve.
To truly be connected, the design of the clinic has to make sense & it has to encourage great workflow for both staff and patients.
The elements which I think need to be incorporated include:
At least 6 Consulting rooms, to be used by doctors, a nurse or two, a rheumatology educator, allied health professionals
1 minor procedure room
1 room for musculoskeletal ultrasound
1 room to house a Bone Densitometer
An infusion room
A pathology collection area
6 treatment bays for physiotherapists
2 treatment rooms for remedial massage therapists
Office space for the physiotherapists/exercise physiologists
A compact central gym area including space for small group exercise classes
An area next to the gym for biomechanical testing/assessment
Showers & Toilets
2-3 offices, to be used by administrative workers, the practice manager & the managing director
A large staffroom which can also function as a small (20 seat) lecture theatre/staff meeting space
The staffroom needs to incorporate a functional kitchen which can be utilised for group healthy cooking demonstrations
A reception area with space for 5 front-line reception staff
Seating space for patients
An area built for patient self-education utilising smart pads or computers
An area to display & demonstrate useful products & devices which are used in managing arthritis
I'm hoping you can help us with some design tips/ideas.
Are there any features you have seen in other clinics we should incorporate?
For those patients reading, how do you think clinics could be designed to make things easier for you?
Dr Irwin Lim is a rheumatologist and a director of BJC Health.
Arthritis requires an integrated approach. We call this, Connected Care. Contact us.
This blog focuses on arthritis-related diseases, healthcare in general, and our Connected Care philosophy.