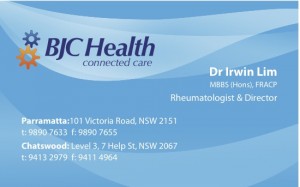 By Irwin Lim, Rheumatologist
Listed on my business card are many ways to contact me.
There's the usual address, land line number and fax number. Of course, our website address is there.
6 months ago, when we redesigned the card, we decided to include BJC Health's social media links so our facebook page, twitter handle & this blogsite address feature.
A more contentious decision was whether to include my email address. In Australia at least, this is just not the norm. I did have an uneasy feeling about this and some fear about being bombarded with emails from patients. Justified or not, that's a fear shared by many of my colleagues.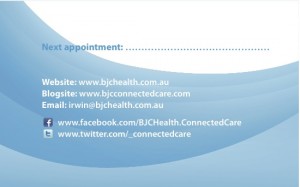 My email address now features on the back of my business card. This is the same side on which every patient's next appointment is written. This business card is given to every patient I see, every day. That works out to be a lot of patients with access to my direct email address.
And patients are encouraged to contact me with their worries. My patients often ring for results, for reassurance, to tell me about possible side effects, and a multitude of other things, some potentially life -threatening & some relatively trivial.
It's been 6 months. I can only remember receiving 3-4 emails from patients in that time.
That's neither good or bad. It's just surprising to me. What do you think?
Dr Irwin Lim is a rheumatologist and a director of BJC Health.
BJC Health provides a connected care multidisciplinary team philosophy to deliver positive lifestyle outcomes through a holistic approach to those with degenerative & inflammatory arthritis, tendon injury and lifestyle diseases. Our clinics are located in Parramatta, Chatswood and Brookvale. Contact us.
This blog focuses on arthritis-related diseases, healthcare in general, and our Connected Care philosophy.