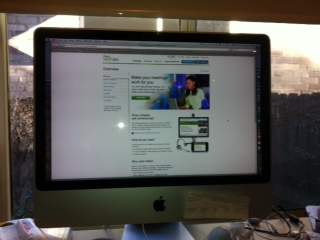 By Dr Irwin Lim, Rheumatologist
Australia is a big place, the planet's 6th largest country. Most of the population of 22 million live on the coast, and particularly on the Eastern seaboard in cities.
The distribution of health services is similarly skewed and rural communities can be terribly under-resourced. I used to fly in to provide a monthly rheumatology service to Tamworth, Australia's Country Music Capital, 500km north of Sydney. This was very enjoyable with interesting problems to deal with and very grateful patients. Unfortunately, the pressures of a toddler and baby twins made it just too difficult to continue.
Many patients in rural communities have to travel hundreds of kms to regional hubs to consult with a specialist. To try and help, the Australian Government has provided incentives to support the development of telehealth/telemedicine.
A telehealth/telemedicine video consultation involves a patient, accompanied by a health professional providing clinical support (usually their general practitioner) on one end; and a medical specialist at the other remote end, participating in a consultation via both an audio and video link.
This initiative commenced this July and in the word's of our health minister, Nicola Roxon: ""Telehealth will cut down the tyranny of distance and bring specialist services to the patient's doorstep through the use of online videolink technology".
But, there are many questions about the logistics:
How many specialists are actually set up to do this & what is the level of interest?
Technology, security & privacy standards need to be developed
What is the best way to coordinate the consulting times to get together both busy GP & specialist?
Physical examination is crucial. While the GP will act as the "hands", for many specialists, this remains a worry.
Undaunted by this, I have been liaising with Ash, a GP in Temora (418km from Sydney). In the spirit of e-health, I met Ash through an online forum for doctors, e-healthspace.
We performed our 1st telemedicine consultation yesterday afternoon. I thought it would be worth documenting some of my thoughts about this:
We used WebEx by Cisco. This seems a good platform & we essentially held an Online Web Conference. Ash acted as the host of the meeting inviting me to a conference with him and the patient.
At both ends, we had standard broadband internet connections. The image and sound quality was very good. I just used an external mike attached to my imac with a built-in camera. It is more crucial that there is a good camera, preferably directional with zoom at the GP/patient end.
Clinical photos & medical imaging are important tools. WebEx allows a desktop to be viewed by other participants. If the GP already had good photos loaded on the desktop, the specialist will have a better image than what is likely to be available via webcam. Images can of course be emailed as well.
Ash, as the GP, was present with the patient for all the consultation acting as a facilitator, information source, & the "hands" for an examination. In addition, he organized the additional blood tests and imaging investigations required as well as wrote a prescription for a medication I suggested. This is probably the most convenient workflow for patient & specialist, but it does leave the GP with more work.
As for the examination, this proved quite difficult but not insurmountable. How a rheumatologist & a GP examines the patient can be different. In addition, the subtleties of what your hand feels as you touch, prod and examine various body parts is obviously loss.
In time, we think it will work best if we booked off a regular session, possibly once a fortnight initially, to provide a rheumatology service to the patients in Temora. All routine telemedicine consults will occur during that time, again to help with the logistics.
We've made a start. It's exciting & telemedicine does allow us a chance to help our rural communities. It's one occasion where the government seems to have got it right.
It's a work in progress & I'm very interested to know how other groups are implementing their telemedicine solution. I would also like to get a patient's perspective. Please share your thoughts, ideas & experiences.
Dr Irwin Lim is a rheumatologist and a director of BJC Health.
BJC Health provides a connected care multidisciplinary team philosophy to deliver positive lifestyle outcomes through a holistic approach to those with degenerative & inflammatory arthritis, tendon injury and lifestyle diseases. Our clinics are located in Parramatta, Chatswood and Brookvale. Contact us.
This blog focuses on arthritis-related diseases, healthcare in general, and our Connected Care philosophy.