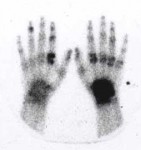 By Irwin Lim, Rheumatologist
It's a good day for disease awareness when a celebrity actually "comes out" and tells the world that they have that disease.
In Australia, Kylie Minogue and Jane McGrath come to mind as their battles with breast cancer brought lots of media attention. The McGrath Foundation continues to make a big difference, both in its charitable activities and in maintaining a high public profile.
Arthritis gets much less press. Much less attention.
Golfer Phil Mickelson has recently been diagnosed with psoriatic arthritis. This high profile sportsman then teamed up with two pharmaceutical companies, Amgen and Pfizer, as well as with the Joint Smart Coalition (a shared project of both the National Psoriasis Foundation and the Arthritis Foundation) to help increase awareness of this disease.
A website called On Course with Phil has been set up as an education resource for those with psoriasis.
Psoriatic arthritis is not a pleasant disease to have as Phil discovered. It's another arthritis that is often undiagnosed and poorly managed, due to general lack of awareness about it.
While we can feel sorry for Phil, it's a win for disease awareness.
Dr Irwin Lim is a rheumatologist and a director of BJC Health.
BJC Health provides a connected care multidisciplinary team philosophy to deliver positive lifestyle outcomes through a holistic approach to those with degenerative & inflammatory arthritis, tendon injury and lifestyle diseases. Our clinics are located in Parramatta, Chatswood and Brookvale. Contact us.
This blog focuses on arthritis-related diseases, healthcare in general, and our Connected Care philosophy.
Stop Press: Stopping recurrent fractures after suffering a fracture from weak bones (osteoporosis) is a priority. We are going to run a Refracture Prevention Program at our Parramatta rooms to try & stop bones breaking.