It's (almost) true. Yes, doctors do tend to prescribe medications, and all medications have potential side effects. However, this is one example of medication which is truly life changing. In this case, the benefits can far outweigh the risks.
Ankylosing Spondylitis (AS) is a chronic disease characterised by inflammatory low back pain and stiffness. Over time, this spinal inflammation leads to progressive spinal restriction, with pain, deformity and loss of the ability to perform the daily activities that we take for granted.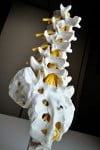 The whole spine can be involved. The disease can also target other areas, including arthritis at the joints of the upper and lower limb (commonly at the hips or knees). It can cause inflammation of the eye (uveitis), and inflammation at the region where tendons insert into bone (enthesitis). The lungs, heart and gastrointestinal tract can also be affected.
For many years, treatment was limited to exercise and anti-inflammatory medication (NSAIDs & Cox-2 inhibitors). These remain very useful. However, a significant number of patients have persistent, debilitating symptoms.
Tumour necrosis factor-alpha (TNF) is a potent chemical (cytokine) produced by the immune system. TNF seems to be a key player in causing the manifestations of Ankylosing Spondylitis. Drugs which block the action of TNF have essentially revolutionized the management of AS.
And yet, many patients and doctors remain unaware of these new biologic agents as highly effective treatments for rheumatic disease. This is a shame as in AS in particular, they are life-changing.
In Australia, the TNF inhibitors available for use in Ankylosing Spondylitis include Infliximab, Etanercept, Adalimumab and Golimumab. Infliximab is given by intravenous infusion while the other 3 are self-administered injections.
These are powerful drugs, with their own set of problems. The cost is prohibitive, currently more than A$20,000 a year. They have a range of potential side effects, some nasty, such as severe infections.
And yet, in most cases, the benefit greatly outweighs the risk.
Patients respond quickly, sometimes within a week. The improvement is usually marked, and most importantly, patients report a vast improvement in quality of life.
Often, to a degree they didn't think possible after years of suffering. Ask an AS sufferer who responds to these drugs, and the person will very likely agree that "wonder drugs" do exist.
If you suffer from Ankylosing Spondylitis, please go and find out more. Use the internet. See a rheumatologist. Things have changed a lot.
Dr Irwin Lim is a rheumatologist and a director of BJC Health. BJC Health provides coordinated, comprehensive, and colocated multidisciplinary care to achieve effective solutions for patients. We call this model of care, Connected Care. Our clinics are located in Parramatta, Chatswood and Brookvale. Contact us.
This blog focuses on musculoskeletal disease, healthcare in general, and our Connected Care philosophy. Read More.
Stop Press: For Physiotherapists only. Attend the BJC Health Professional Development Seminar on February 20, 2011. Register to attend and link or join the professional page on Facebook. Our Hootcourse will also be online soon. Details on Facebook.