We believe there is a right trainer for everybody. A personality and expertise match can go a long way in making exercise safe, motivating, and sustainable.
This year's Exercise Right Week theme centres around "Who's your match? Getting to know your expert of exercise".
To break the mould and challenge stereotypes of who the right exercise professional may be, we've interviewed our excercise physiologists so you can get to know them!
Meet Joel Bromley: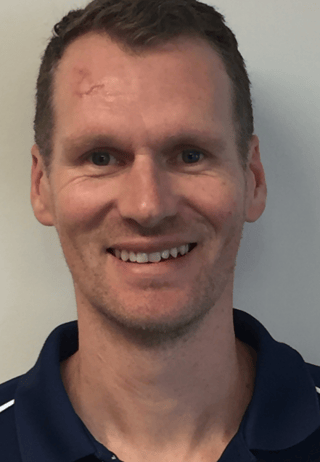 Joel returned to work at BJC Health in 2016 after previously being a member of the team in in 2007 before leaving to travel and live overseas.
Joel has been an Accredited Exercise Physiologist for approximately 13 years and has worked in a range of roles including: clinical Exercise Physiology; Personal Training; corporate gym management; Rehabilitation consultant and senior management roles in the Workplace Health and Rehabilitation sector.
Joel has a passion for exercise as medicine and in managing clients with chronic and complex health conditions
Where did you grow up? Dural, Sydney. Or as other more inner city Sydney folk refer to it as, "out in the sticks …"
Do you have any nicknames? I have never had too many nicknames but the simple but obvious one that most people use is 'JB'.
Star sign: Cancer. Perhaps the association I identify most with this star sign is 'caring'. A very important quality to have as an EP.
Favourite food: I have been lucky enough to travel to Japan and fell in love with the Japanese cuisine. Especially after a hard days skiing and accompanied by a sake or two!
Your favourite zoo animal? The first animal that comes to mind is definitely the Hippopotamus. Most likely as the Hippopotamus Song is insisted to be played every time my 3 year old is in the car.
Where would you like to travel? Scandinavia. Cold but mysterious.
Favourite type of exercise: A cross training session outdoors is always my go to session. We are lucky to have such great weather all year round in Australia and Sydney offers many great training spots by the harbour.
Something clients don't know about you: I have a cat with one eye named Eyespy
A purchase under $100 which has positively influenced your life? A drop deck skateboard. A great way to relive my youth but hopefully avoiding the injuries!
The best thing about being an EP? Getting to know and building relationships with such a diverse range of people
We are again offering free 30min consultations during Exercise Right week with one of our EP's to help you figure out whether you are exercising right.
Feel free to book in a consultation with Joel. We are experts in making sure what you are doing is targeted, safe and specific to your needs.
Click here to make your booking!