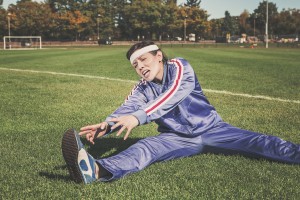 Movember is officially upon us, and it's time to get moving!
Each week of Movember, we will be posting 7 activities to keep you moving for at least 30 minutes every day.
Each list is a collaborative effort by our physio team to find the best running, walking and other exercise spots across Greater Sydney.
Monday: The Chatswood Concourse is one of Sydney's leading entertainment venues and home to a huge range of live events. Luckily for you, the spot is also great for some serious stair runs. If running isn't your thing, walking up and down the stairs repeatedly will get your blood pumping, too!
Tuesday: Running through the back streets of The Rocks is a different exercise experience and allows you to see the magnificent architecture the area is known for. Going up Observatory Hill is more pleasant than it sounds, considering the view at the top. There is also exercise equipment here if running isn't your scene.
Wednesday: Narrabeen Lake is an 8km walk, so, a little longer than 30 minutes worth of activity for this one. The lake is beautiful and the whole boardwalk area is brand new. It's a great little walk. Consider it the perfect opportunity to walk off the carbs from all the champagne you had yesterday!
Thursday: Lake Parramatta Reserve is a huge bushland reserve located just 2km from the Parramatta CBD. The entrance to the reserve is from Lackey Street, off Bourke Street in North Parramatta. There are a number of formal tracks which form a circuit around the edge of the lake which was originally the water supply for Parramatta. Parramatta Council offers this handy brochure to help you navigate your way around the lake.
Friday: Centennial Parklands is a beautiful backdrop to your own self-guided walk. You can also hire bikes, walk your dog, ride a horse or even rollerblade to get in your 30 minutes worth of exercise!
Saturday: Sirius Cove in Mosman is a great little dog-friendly beach to walk along with your four-legged friend. Not only are you getting your 30 minutes in, but so is the dog! Just to mix it up, go for a 30-minute swim with the pooch, the water's perfect this time of year!
Sunday: The Domain, in the heart of the CBD, is a great place for any sort of exercise or circuit training. It's home to many 'boot camp' style classes if you really want to challenge yourself!