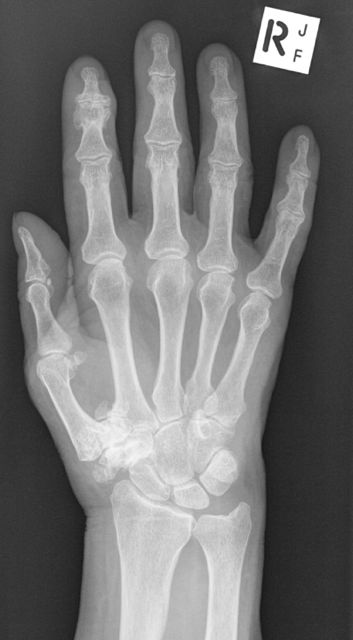 By Ray Jongs, Hand Physiotherapist
There are many causes of pain at the base of the thumb.
But commonly, the thumb starts to become painful because of wear and tear of some of the small joints - osteoarthritis.
Our thumbs are fascinating and unique because we can place our thumbs in such a way as to hold and manipulate things easily. Our thumbs move into this position of 'opposition' to other fingers through rotation at the base of the thumb, between a very small bone (the trapezium), and the longer bone (the metacarpal).
Unfortunately, wear and tear of the base of the thumb may involve more than this joint of opposition, and possibly involve a more extensive process that includes the wrist (midcarpal joint).
In this way, 'no pain, no gain' could lead to a hastening of the arthritis.
Education for joint 'protection' is essential in the management of arthritis to the base of the thumb.
A hand physiotherapist will be able to advise on the common and specific activities that cause or exacerbate pain at the base of the thumb in daily activities. Following the assessment of each of the joints at the base of the thumb, a hand physiotherapist can also manufacture a splint to be used in daily activities. The splints are generally limited to the thumb and hand, or may extend to include the wrist; the splints can be inconvenient, but their purpose is to restrict motion of an irritable joint temporarily, and it is hoped the inconvenience can be justified.
Hand physiotherapists will also issue exercises for the thumb. Targeted stretches for the thumb, and gently progressed strengthening are usually supervised to ensure that the thumb and hand return to an optimum level of function.
Essentially, hand physiotherapy offers a tailored program of joint protection, splinting and exercises for the thumb.
As the arthritis at the base of the thumb is also associated with arthritis of other small joints of the hand, the tailored program can easily incorporated these principles for the overall benefit of the patient, in conjunction with the medical management for the arthritis.
Ray Jongs is a hand physiotherapist. He works at Royal North Shore Hospital and at BJC Health. BJC Health provides a connected care multidisciplinary team philosophy to deliver positive lifestyle outcomes through a holistic approach to those with degenerative & inflammatory arthritis, tendon injury and lifestyle diseases. Our clinics are located in Parramatta, Chatswood and Brookvale. Contact us.
This blog focuses on arthritis-related diseases, healthcare in general, and our Connected Care philosophy.