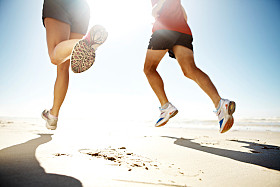 Richard Windybank, Podiatrist from the Sydney Sports Medicine Centre came to BJC Health Parramatta on Wednesday night to speak to us about his take on podiatry and running.
This seminar was part of our weekly 3 hour inservice learning program at BJC Health. All our practitioners are encouraged to come each week and develop their clinical skills with workshops and seminars on various topics related to our connected care philosophy.
Richard discussed his approaches to training runners for good technique and emphasised the beauty of keeping it simple in giving cues to runners in order to make change manageable.
Richard teaches being aware of the shock of your footfalls as the primary teaching aid to running technique, that if you run quieter you will naturally progress to a more mid- and forefoot strike.
He also covered the physiological problems he most commonly encounters in runners and his simple, but effective, fixes for them.
Above all his message was that it is through technique that runners can avoid injury and run better.
At BJC Health we offer running gait assessments using a treadmill with shock sensors, video analysis and FMS movement assessment under the direction of one of our physios and/or our exercise physiologists. Personalised corrective exercises and drills are then offered to address issues uncovered in our analysis.
If you'd like to book in a running assessment for yourself or someone you know, please use our Appointuit system or call 1300 252 698 for an appointment.
If you'd like to contact Richard at the Sydney Sports Medicine Centre, call (02) 9764 3131 or use this page to contact the SSMC.