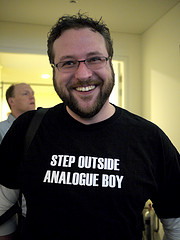 Courtesy of Jenny Poole, Flicker
I'm currently enrolled in my first MOOC. That's Massive Open Online Course. Yup, I didn't know about these either until recently.
It's titled Medicine in The Digital Age and runs on the edX platform.
This week, we're looking at how patients have changed in this digital age and I just finished watching an interview between Dr Bryan Vartabedian (Dr V from 33charts) and Dr Roni Zeiger.
Here are some distilled thoughts regarding why doctors, and your rheumatologist, may be a little sceptical about the digital age when it relates to medicine.
Why?
It's change, and it's rapid change.
Medicine (and rheumatology) is a discipline that changes in very, very incremental ways. Change can be uncomfortable and this discomfort is felt particularly by those who traditionally control the way in which the field changes. Discomfort leads to a degree of push back.
Doctors invest huge energy in caring for people. We want to be effective and we've been taught certain ways & rules to work by to enable this. Now, the rules seem to be changing. That leads to a degree of uncertainty.
Doctors do worry when patients have so much access to information which they may not understand. This may potentially waste valuable time in the consult room discussing "irrelevant" information and may even cause harm if the patients follow recommendations from untrained others and from "untrustworthy" sources.
Of course, we could take a different view of this wonderful information access.
Patients may find answers to a heap of questions they have even before they see the doctor. The basics can be taken care of efficiently. And questions may then be more sophisticated with consult time spent in a more targetted way.
The power dynamic is changing. Patients, now armed with reams of information, can seem challenging at times. There is more pressure on the doctor. They need to be on top of their game. They need to be honest when they don't know (and I think patients do accept & understand there is a limit to how much info any doctor can store in their brain).
Doctors can be uncomfortable with this power shift.
But hopefully, this relationship and dynamic will mature.
Information is not the same as knowledge.
The doctor, your rheumatologist, still plays the crucial role of providing context and experience to aid interpretation of the information.
It's such an interesting time to be a doctor!
Please share your experiences with this changing patient-doctor relationship.