Last weekend, I chaired a session on spondyloarthritis & ankylosing spondylitis.
My 1st task of the day was to remind the attending rheumatologists of the objectives of the meeting.
This was the slide I put up. It's a slide made by Maxime Dougados, a very eminent rheumatologist.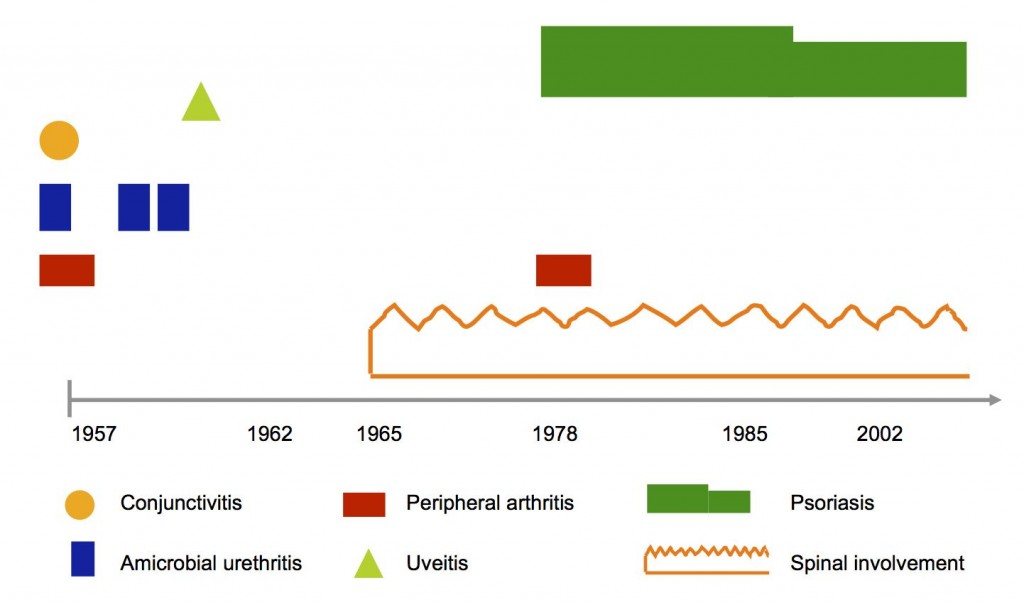 This slides summarises the true story of a French soldier aged 19.
The story (and thanks to @Sam Whittle for telling me this) begins in 1957, when he suffered a triad of problems: urethritis, arthritis & conjunctivitis. Rheumatologists easily recognise this as Reactive Arthritis. Over time however, he suffered much, much more. This included:
"amicrobial urethritis"
"acute anterior uveitis without obvious aetiology"
inflammatory back pain
In 1970, the diagnosis of Ankylosing Spondylitis was made because sacroiliitis was now obvious on the X-rays of his pelvis.
In 1974, he was one of the first HLA-B27 typed patients and was found to be HLA-B27 positive.
Later, he developed psoriasis as well as bouts of peripheral arthritis so he was diagnosed with Psoriatic Arthritis.
Reactive Arthritis, Anterior Uveitis, Ankylosing Spondylitis, Psoriatic Arthritis - all in the same patient.
Is this rather unfortunate patient suffering from 4 different disorders or a single one with different clinical presentations?
What I see is a messy slide representing a messy, confusing, overlapping disease or diseases.
Unfortunately, this describes the typical experience for many patients & the doctors/health professionals trying to make sense of the many different symptoms.
It's not neat.
And yet, we rheumatologists need to make it easier to help improve diagnosis, management and monitoring of patients with spondyloarthritis.
Why?
Because we have effective treatments
Why?
Because the patients who suffer these diseases & these issues of delayed diagnosis & poor treatment deserve it.
Dr Irwin Lim is a rheumatologist and a director of BJC Health. You should follow him on twitter here.
Arthritis requires an integrated approach. We call this, Connected Care.
Contact us
.
This blog focuses on arthritis, healthcare in general, and Connected Care. Please subscribe to keep in touch: