The characteristic presenting symptom in the majority of patients with Spondyloarthritis (a group of diseases with the prototype being Ankylosing Spondylitis) is inflammatory back pain.
The definition of inflammatory back pain has been debated for many years. No single clinical feature of back pain is sufficiently specific nor sensitive and as such composite criteria have been developed.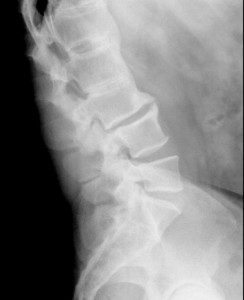 The Calin criteria, published in 1977, suggested inflammatory back pain is present when back pain has 4 of the following 5 features:
Age at onset <40 years
Duration of pain > 3 months
Insidious onset
Improvement in pain with exercise
Presence of morning stiffness
The Berlin criteria followed in 2006, which defined inflammatory back pain as present when 2 of the following are present:
Morning stiffness >30 minutes
Improvement in back pain with exercise but not with rest
Alternating buttock pain
Waking during the second half of the night
Most recently, in 2009, the Assessment in SpondyloArthritis international Society (ASAS) gathered a panel of experts who put forward the following criteria:
Age at onset <40 years
Insidious onset
Improvement with exercise
No improvement with rest
Pain at night (with improvement upon getting up)
The ASAS group found that when 4 of the 5 features are present, the back pain was very likely to be inflammatory in nature (sensitivity of 77% and specificity of 91%).
In subsequent studies, the ASAS criteria was found to have the best overall performance, where as the Calin criteria was most sensitive and the Berlin criteria most specific.
In essence if patients present with back pain and have a number of the features presented above, then a spondyloarthritis should be considered and referral to a Rheumatologist is most appropriate.
Dr Roberto Russo is both a rheumatologist and a nuclear medicine physician, as well as a director of BJC Health. BJC Health provides coordinated, comprehensive, and colocated multidisciplinary care to achieve effective solutions for patients. We call this model of care, Connected Care. Our clinics are located in Parramatta, Chatswood and Brookvale. Contact us.
This blog focuses on musculoskeletal disease, healthcare in general, and our Connected Care philosophy. Read More.